I tend to forget the easiest things, like these 2 Easy Favorite Fall Snacks! Candy Corn Peanut Mix and Chocolate Dipped Pretzel Sticks. They are so easy they require no recipe but without the visual reminder of how cute and yummy they are I always forget them till the last minute!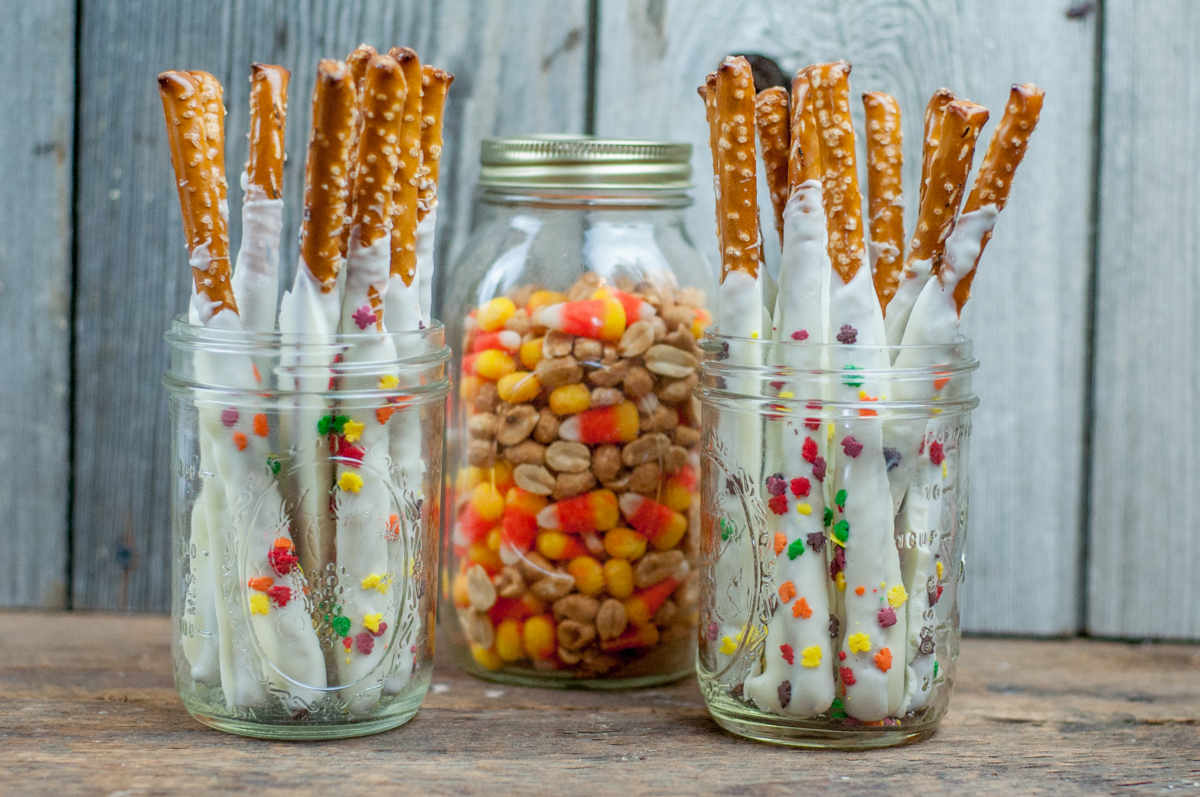 These snacks are super easy to throw together with simple ingredients grabbed while at the store! They are perfect to send in lunches or as a great snack before sports practices – -or if your like me a tractor snack! And I just discovered these adorable Mason Jar Zipper bags which I shall hence forth be using for these treats!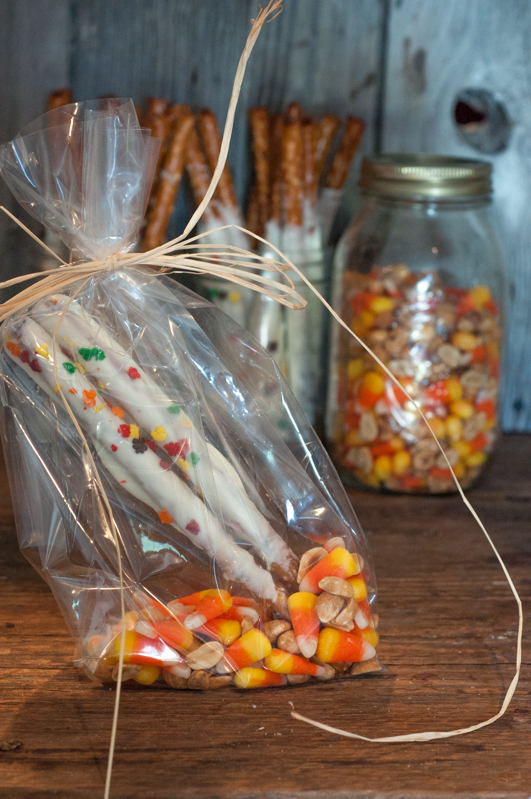 The candy corn and peanuts are just a toss together, a lot of people call this Payday Mix! What's your candy corn to peanut ratio – we all have one. I'm a one candy corn to 3 peanut halves kinda girl – and yes I go to the trouble of making sure each bite is that exact ratio.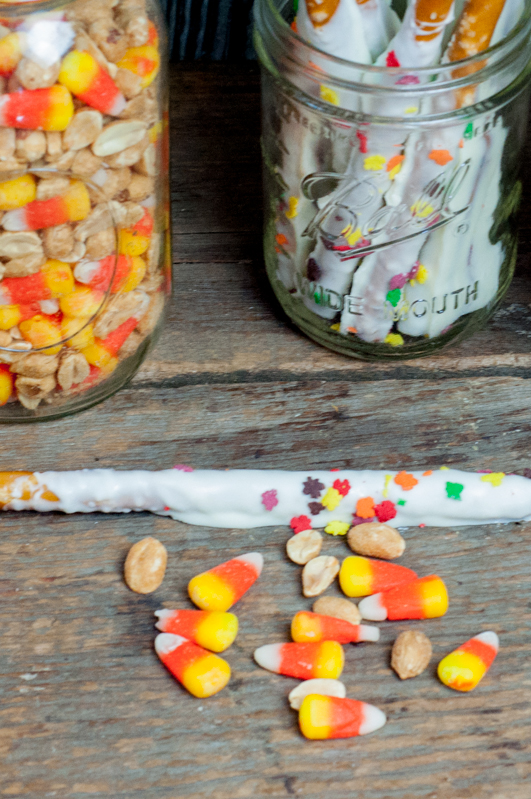 Adding seasonal sprinkles to my pretzels dipped in chocolate is a go to for me, sprinkles make me smile! I used these super cute fall leaves on these. I also used Ghirardelli white chocolate melting wafers because I love really good white chocolate. If I'm using the calories I'm using the good stuff! I always melt my chocolate in a tall narrow container so that I get as much of the pretzel stick covered as possible – all I want uncovered is a small handle. Be sure you add the sprinkles before the chocolate sets!
2 Easy Favorite Fall Snacks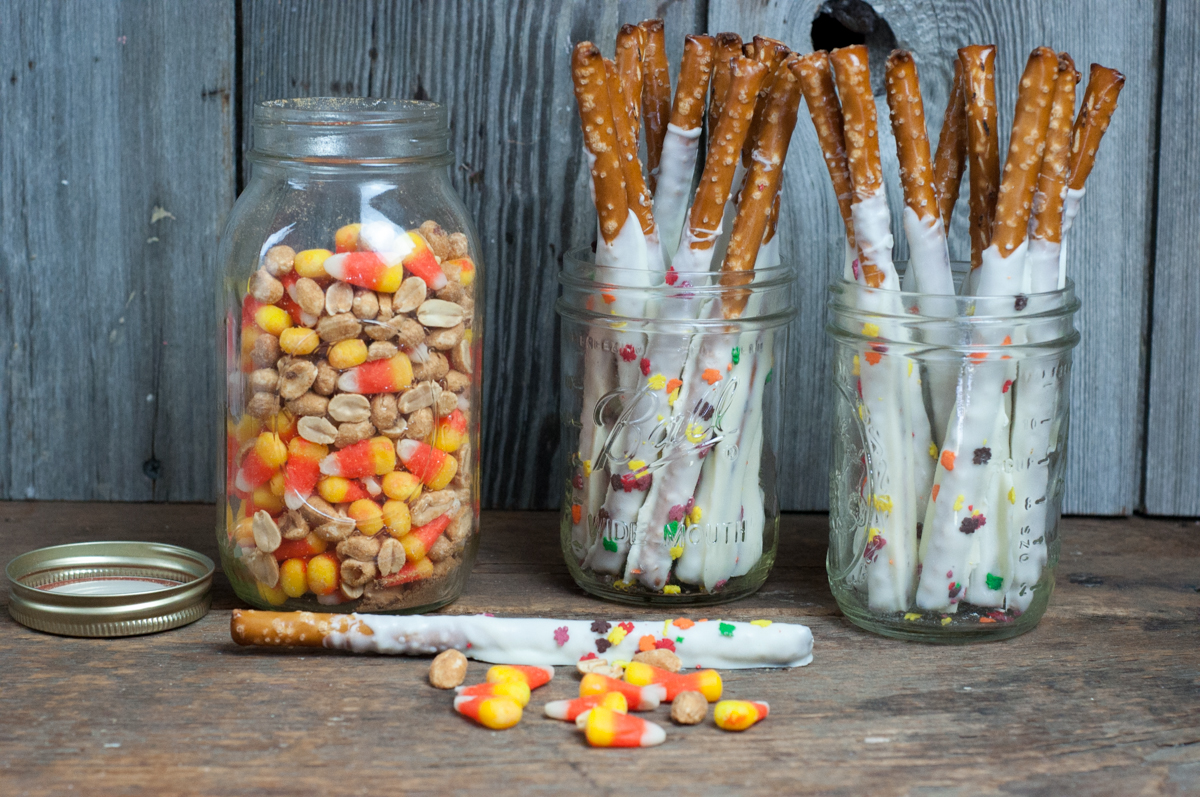 Call it Candy Corn and Peanuts, Candy Corn Snack Mix, Candy Corn PayDay Snack Mix – call it anything you want!
Call them Chocolate Covered Pretzel Sticks, Chocolate Covered Rods, Chocolate Dipped Pretzels – I call them both 2 Easy Favorite Fall Snacks!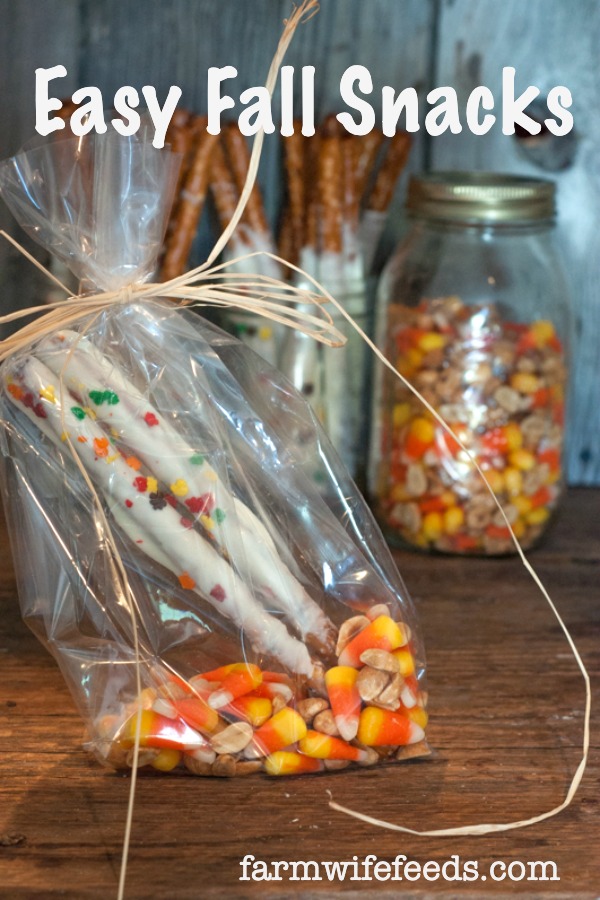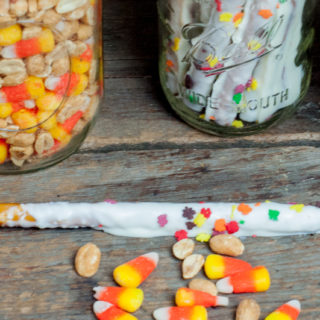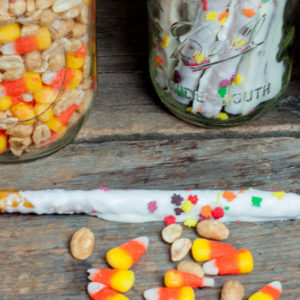 Candy Corn Peanut Snack Mix
Ingredients
Candy Corn

Salted Dry Roasted Peanuts
Instructions
I like a 1:1 ratio, so for every cup of candy corn I add a cup of salted dry roasted peanuts.

Make as much as you like and serve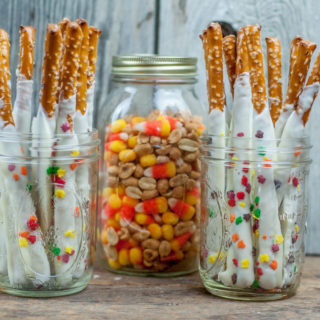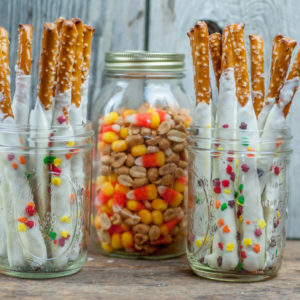 Chocolate Dipped Pretzel Rods
Ingredients
1 10

ounce

bag of white chocolate melting wafers

1 12

ounce

bag of pretzel rods

Optional: sprinkles
Instructions
Melt chocolate wafers according to package directions - I like to use a deep narrow dish for good coverage

Dip each pretzel rod into melted chocolate, lay on wax paper, sprinkle with sprinkles and allow chocolate to harden