These Dreamy Triple Layer Jello Cups are yummy!  Seriously that's the word I am choosing 'YUMMY' and while they look like 3 layers there's actually only 2 layers of jello to mix and let set! So you look like a Jello genius in a lot less time-but that's just between you and me!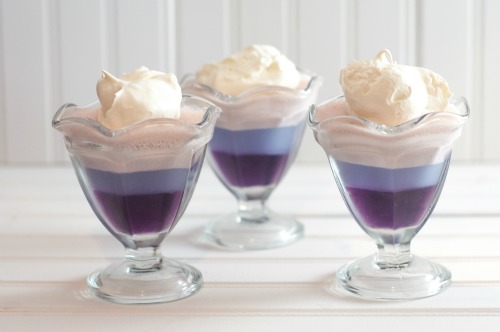 I love Jello, it makes me smile!  I have ignored Jello for quite a few years now but no longer!  After my reunion with Finger Jello I have a renewed love of this fruity flavored fun dish!
When Liz over at Farmwife Cooks called me and said "I have a project idea" I said "I'm in"…….then I asked what the project was!  It's kind of how I roll!
She said I want to do meal's based off of the colors of the rainbow!  Sarah at Farmwife Crafts will do a craft for each color, Leah at Farmwife Drinks will do a drink for each color and I was put in charge of desserts!
And of course you could do Jello for any color of the rainbow but I choose purple!  Grape Jello and Cool Whip sounded yummy and I thought the purple would be so pretty in my Sundae cups!
Dreamy Triple Layer Jello Cups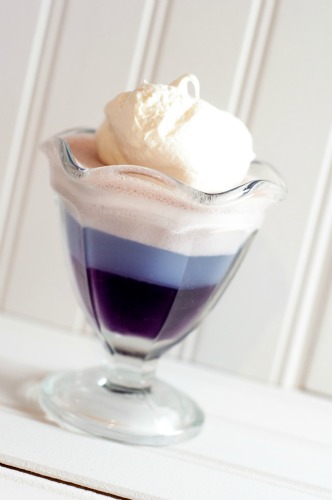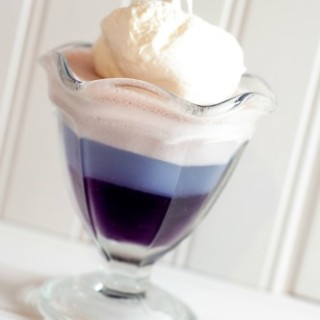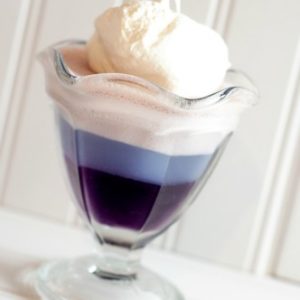 Dreamy Triple Layer Jello Cups
Ingredients
2 3

ounce

boxes of grape jello

2-3

cups

of Cool Whip
Instructions
Mix one cup of boiling water with one box of grape jello, stir until until fully dissolved then add one cup of cold water

Divide between the cups you choose to use, refrigerate and allow this layer to set up

Once first layer is set up mix second box of jello with one cup of boiling water until completely dissolved and add a cup of cold, now stir in one cup of cool whip and combine throughly

Divide among cups pouring directly over the first layer of set up Jello

Place back in the refrigerator until this layer sets up - this layer will separate giving the appearance of 2 layers

Top with additional Cool Whip and serve