These Halloween Sugar Cookie Dippers are so fun and super easy. Cute little holiday plunge cookie cutters and easy buttercream icing make everyone happy!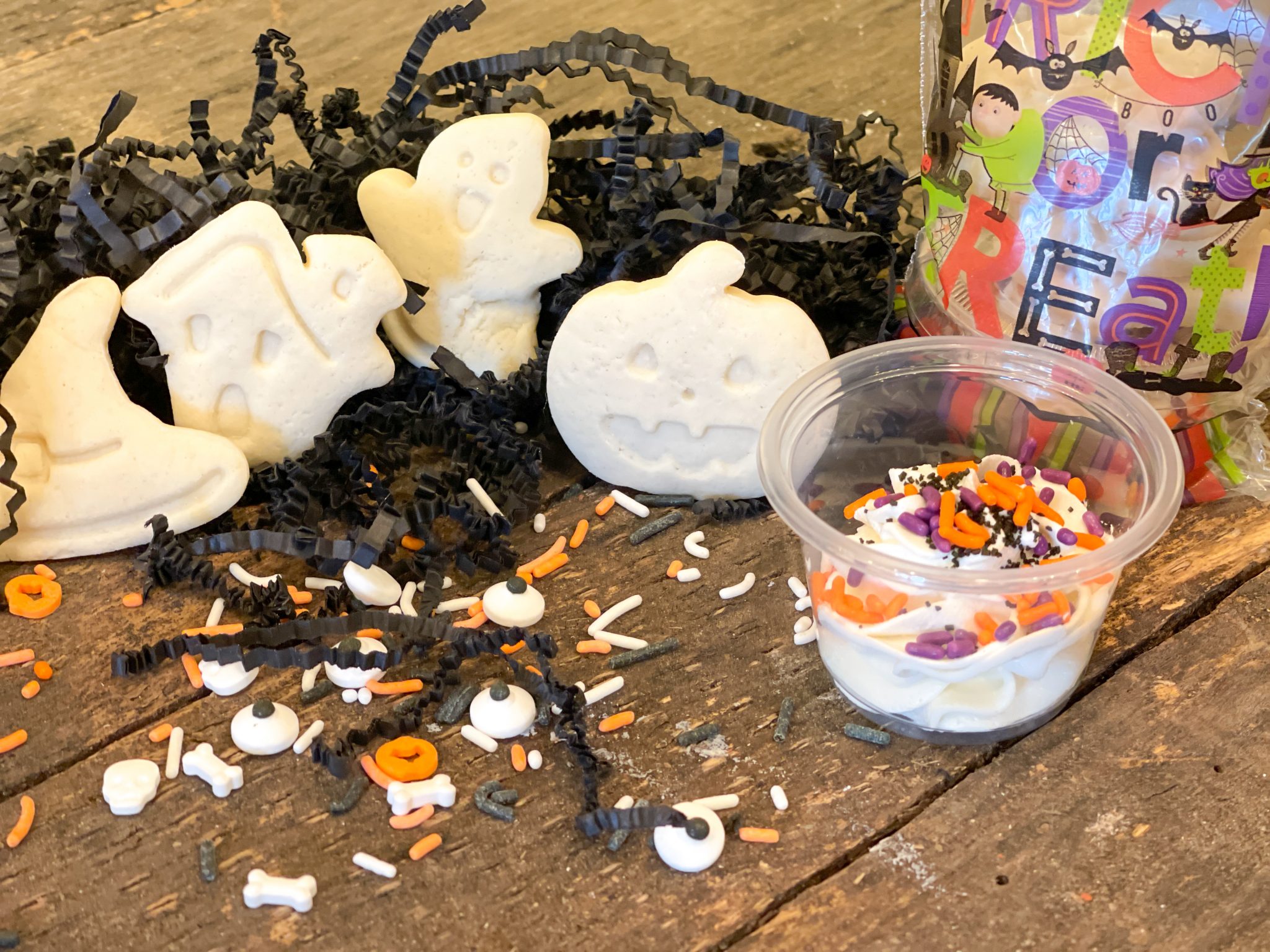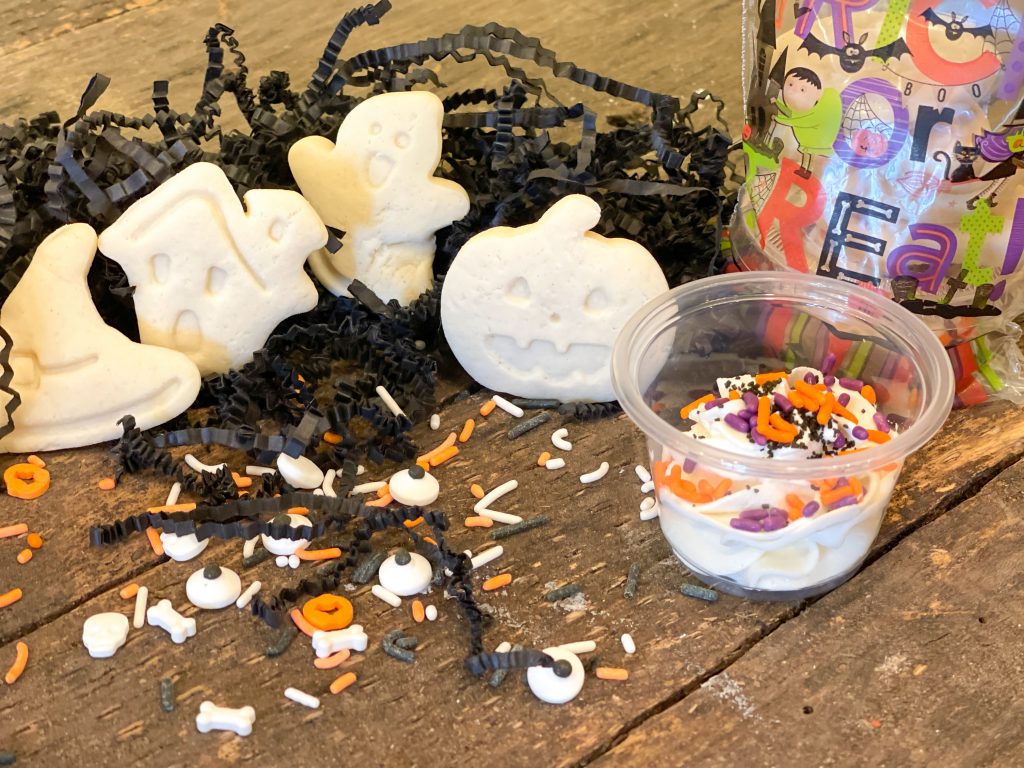 These are such a fun holiday treat and amazingly simple. They look and taste like you're a professional cookie baker. Using a really good sugar cookie recipe, a real buttercream recipe and fun sprinkles you will be the hit of the party!
Halloween Sugar Cookie Dippers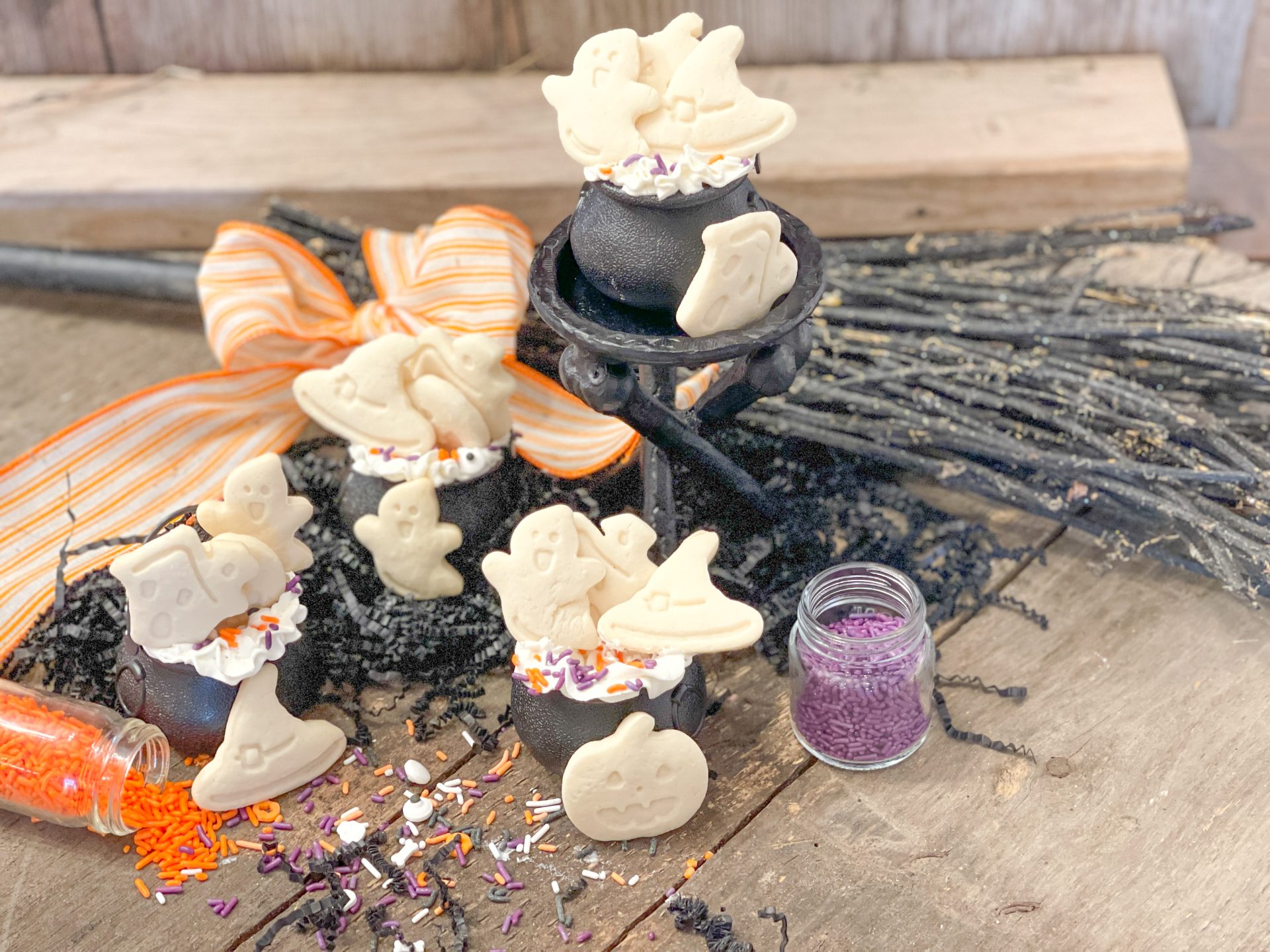 The Halloween Set Plunge Cookie Cutters that I found are adorable. I love that they have character without icing. But any bite-size small cookie cutter will work and will be just as fun to dip in the icing and eat! My favorite sugar cookie recipe for cut-out cookies is from my friend Liz over at Farmwife Cooks – it's freaking delicious and cookies hold their shape after baking.
Liz's Sour Cream Sugar Cookies paired with my Buttercream Frosting are a match made in heaven!
I love me some Pillsbury ready-made cookie dough from the refrigerator section so no shame in that game. Just know that it doesn't hold it shape as well after baking. And using some store-bought icing never hurt anyone it's the finished product that people are gonna love, not the path you took to get there!
There are a couple of ways I like to present these
Packaged party favors for school classrooms or trick or treaters using disposable lidded containers and treat bags.

Party treats using plastic cauldrons for the icing
Packaged Party Favors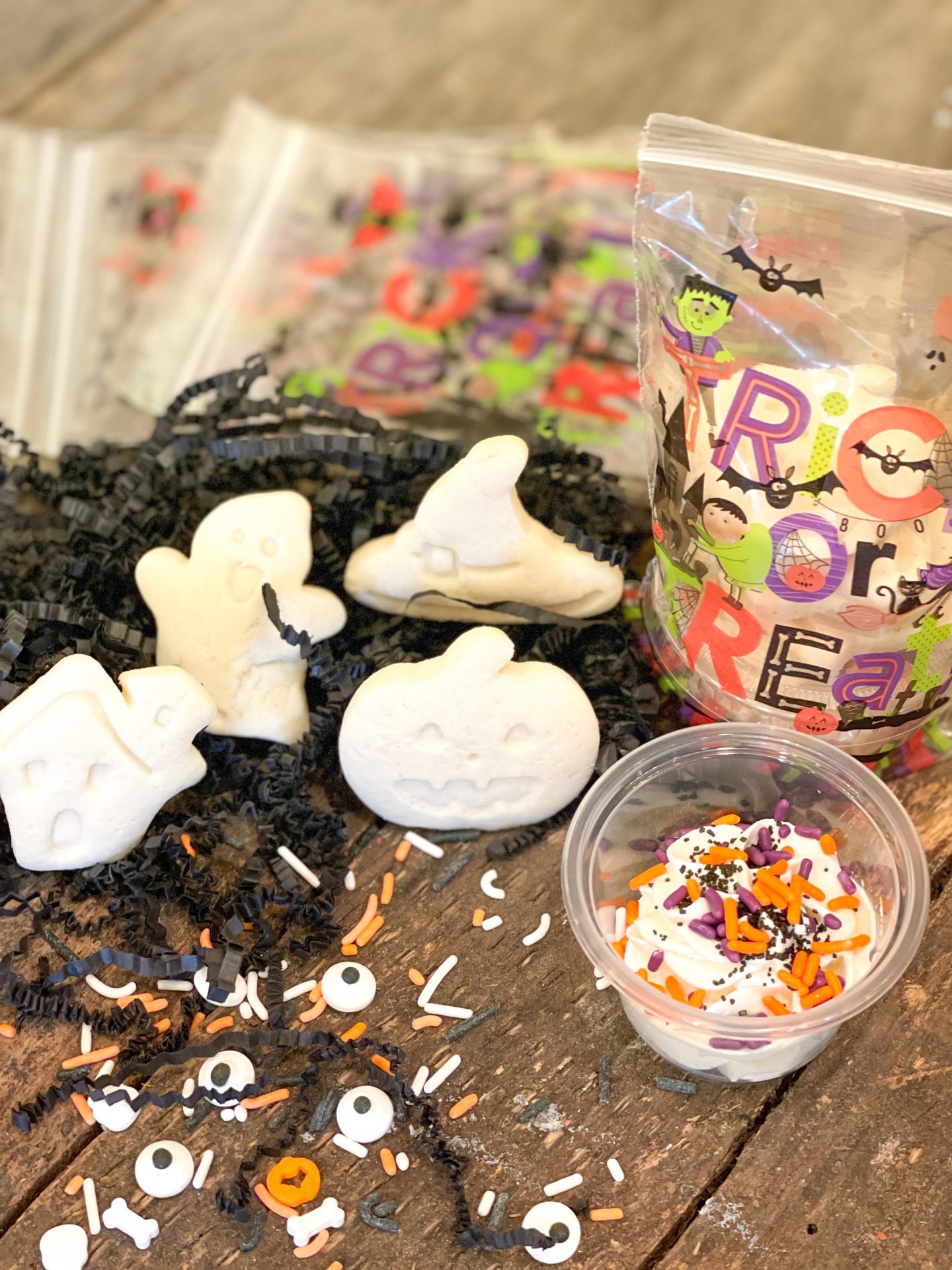 Classroom, teacher treats, work treats or trick or treaters will all love these.
I used plastic portion cups with lids for the icing and sprinkles then Halloween treat bags to hold the icing cup and the bite-size cookies. Everything you need for a great homemade Halloween snack is pre-packaged and ready to hand out treats!
Party Treats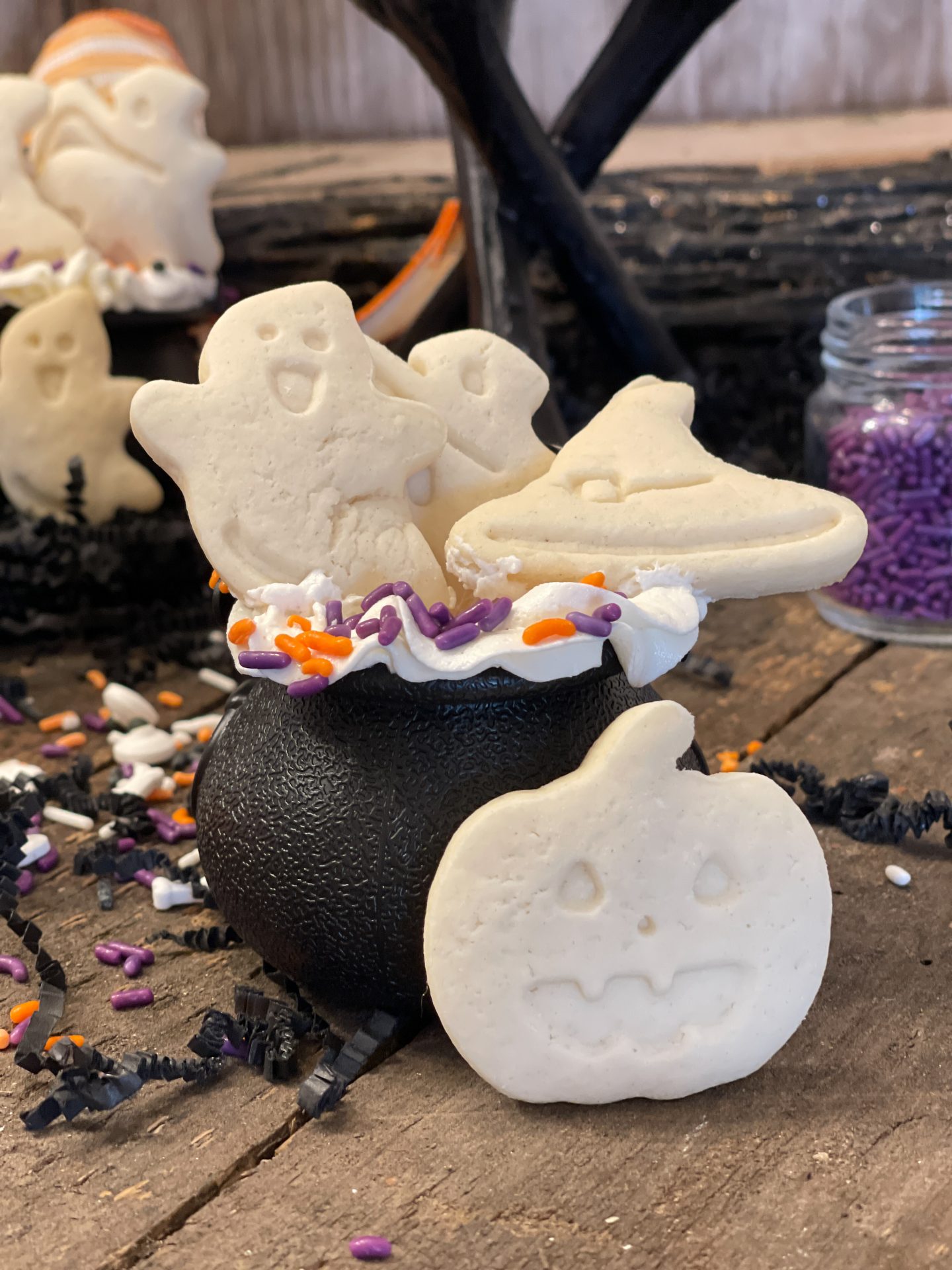 I used Halloween Mini Candy Cauldron for the icing, making a bunch up and setting them on the table next to a platter of bite-size dipping cookies. You could also go ahead and stack the cookies in the cauldron.
I used an icing decorating bag to put the icing into the cauldron and then piped a little around the edge for a "bubbling witches brew" effect. Of course, I added some Halloween sprinkles and it's a super simple party treat that's easy to make ahead.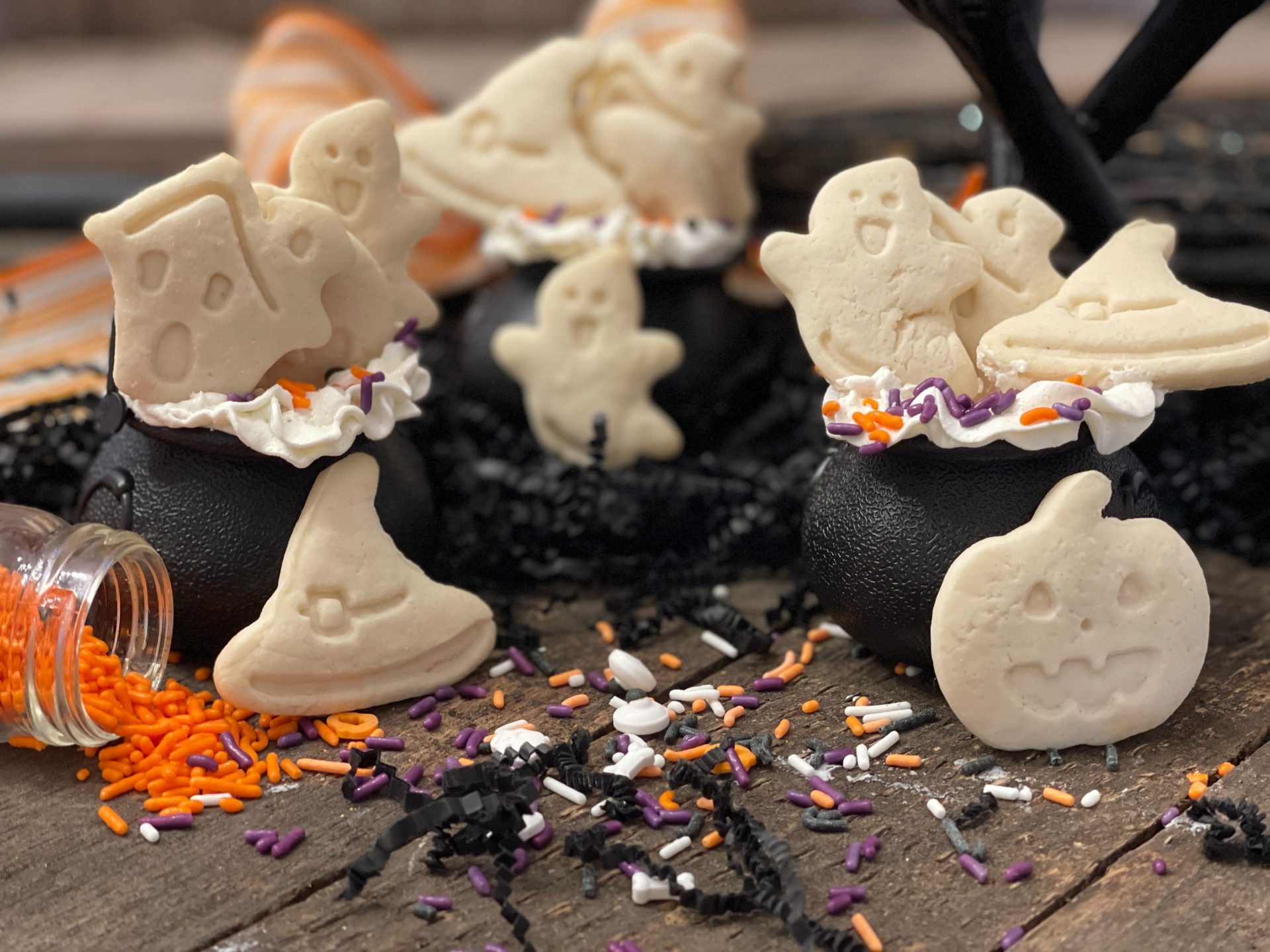 Recipe Links Used:
Sour Cream Sugar Cookies from Farmwife Cooks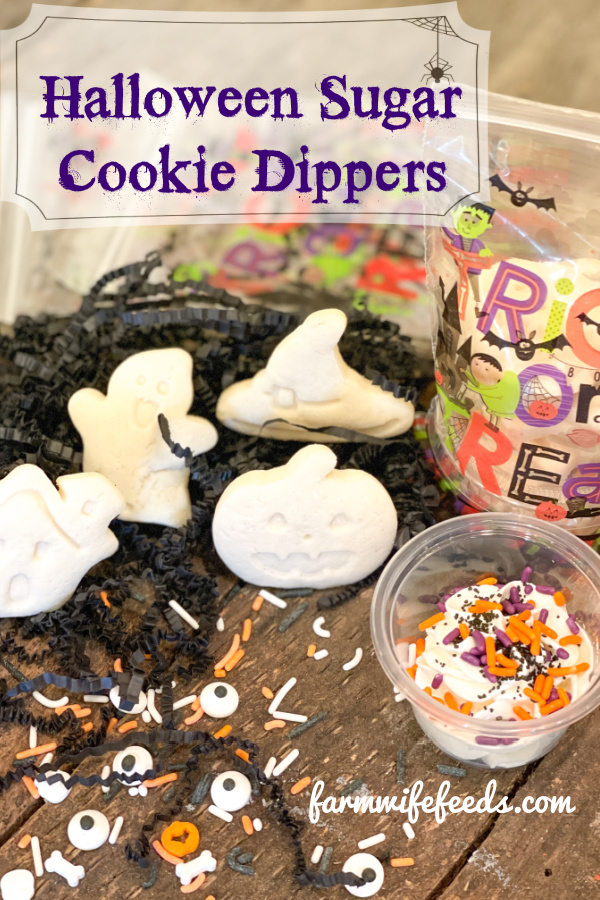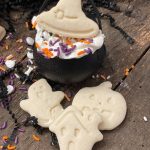 Print Recipe
Halloween Sugar Cookie Dippers
Fun bite-size cookie treats with icing and sprinkles for dipping!
Ingredients
Pre-Packaged Party Favors
Halloween Treat Bags

small plastic portion cups with lids

Halloween small bite-size cookie cutters

favorite sugar cookie dough

Icing - boughten or homemade

sprinkles

piping bags - optional
Party Treats
Halloween Mini Candy Cauldrons

Halloween small bite-size cookie cutters

favorite sugar cookie dough

Icing - boughten or homemade

sprinkles

Piping bags - optional
Instructions
Pre-Packaged Party Favors
Roll out sugar cookie dough, cut with cookie cutters and bake according to cookie recipe - allow to cool

Make the icing or grab some of your favorite store-bought - using a piping bag or a knife fill the individual portion cups, add some sprinkles, and put the lid on

Once cookies are cool - place the icing cup in the bottom of the treat bag and carefully place 4 cookies on top and seal the bag

Can be made ahead and stored in the refrigerator
Party Treats
Roll out sugar cookie dough, cut with cookie cutters, and bake according to cookie recipe - allow to cool

Make the icing or grab some of your favorite store-bought - using a piping bag or a knife fill the mini cauldrons with the icing, add some sprinkles

Cookies can be placed in and around the cauldron to serve or you can put the cauldrons around a platter full of cookies and let guests help themselves